Join us on this 4 hour journey (16th December, 2023) learning all about the vagus nerve and how it relates to our autonomic nervous system and overall health. Practice ways to stimulate it and improve the your heart rate variability (HRV) or your body's adaptability to stress or trauma.
This is an experiential and practical retreat where you will get to experience the vagus nerve magic, breathwork, cold water immersion (ice baths), meditation and a relaxing sound bath to close. All of these practices combined are an invitation to nourish yourself but also gain an embodied understanding of the power of the vagus nerve.
Expect space to play, learn, breathe, explore, and heal at your own pace. No experience necessary. Everyone is welcome.
Light refreshments and fresh juices are included.
Agenda
16th December, Saturday
9.30-11.00 am Vagus Nerve Workshop & Exploration
11.00-12.15 pm Breathwork with Ice Dips
12.15 – 1.30 pm Sound Bath Restorative Practice & Closing Circle
Things to bring
Journal & Pen
Shawl / Outerwear (if sensitive to temperature changes)
Bottle of Water
Swimwear / clothing suitable for ice bath
Community Support:
Heveya® – Organic latex mattresses and bamboo sheets for an ultimate sweet lullaby
Common Man Coffee Roasters – Light bites and fresh juices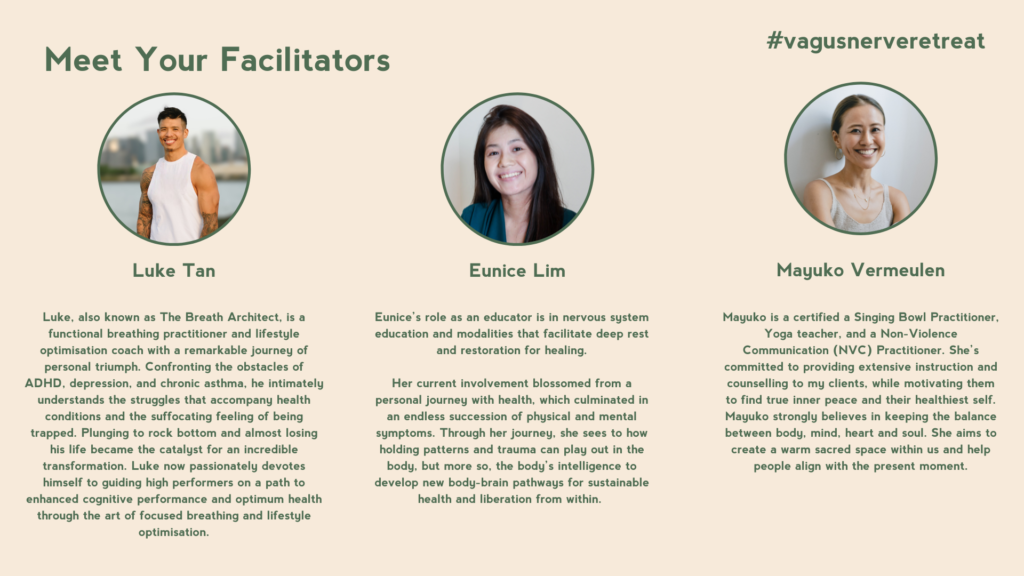 Please note that this retreat has limited spots. Sign up early to reserve a spot.
Early Bird Price: $350/pax* (until 30th November)
Regular Price: $385/pax* (30th November onwards)
*Sliding scale pricing available