Soma Haus supports the fight against breast cancer with the "Feel Your Lemons" Campaign throughout the month of October. The campaign, which aims to raise awareness to encourage early detection and prevention, will consist of a series of educational workshops and classes that advocate for self-care, breast health, greater body awareness (beyond the breast) and the power of embodiment in our own health and well-being.
"Feel Your Lemons" was inspired by the founder of the Know Your Lemons Foundation Dr. Corrine Ellsworth-Beaumont MFA, PhD, whose work has been praised for teaching women worldwide the signs and symptoms of breast cancer through unique visuals.
Soma Haus is aligned in the same mission to educate people about their bodies and health, initiate conversations about breast cancer and encourage women to go for early screening. Soma Haus will be raising funds for its beneficiary, the Breast Cancer Foundation (BCF).
#feelyourlemons fundraiser will take place over the entire month of October through:
Art installations featuring written pieces by Breast Cancer Survivors
Store Sales of handmade ceramic "boob mugs" that promote body positivity and self love
Ticket sales of workshops and classes under the campaign (refer to campaign highlights page
1% of revenue earned of all therapies and services at Soma Haus in the month of October
The funds will go towards programmes run by BCF which include support group, awareness talks and campaigns as well as subsidisation of mammogram screening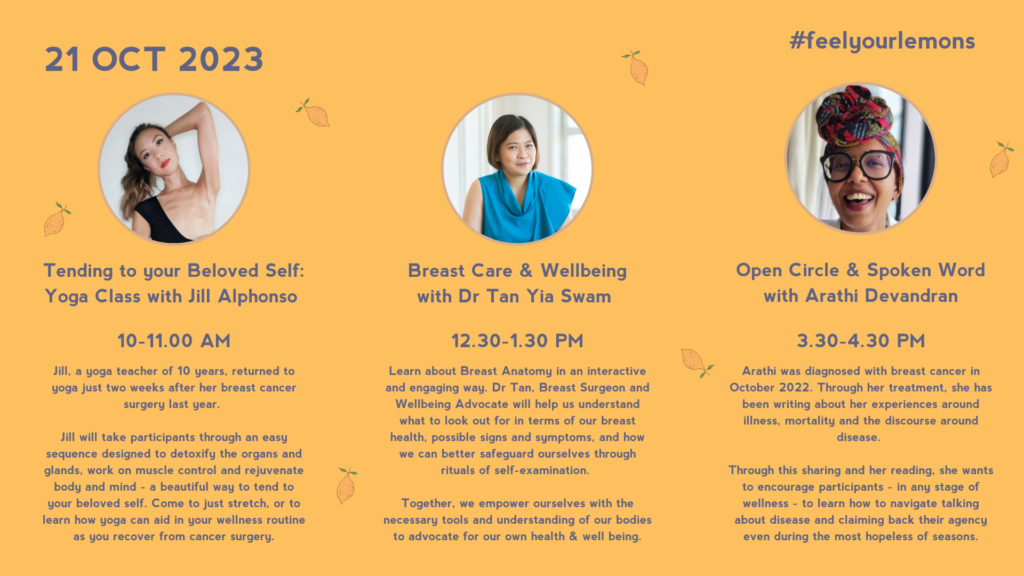 All sessions are priced at $35/pax.
All events are Complimentary for Breast Cancer Patients.